Sugar Consolidated Activity Report
Expanding upon Sugar's native reporting capabilities, there's now one place to get better insight into your account activities. Sales teams and management can use Consolidated Activity Report (CAR) to get a complete picture of all activities for an account or a particular sales rep. Sugar Sell typically separates emails, meetings, and calls into separate buckets. CAR puts them all into one big bucket for more advanced and consolidated reporting and dashboards. Implement CAR to arrive at the big picture you always wanted.
Features & Benefits
One consolidated report for ALL calls, meetings, and emails.
See a complete snapshot of an account by critical sales activity.
Report on employee activities with clients and prospects.
Extensive filtering functionalities
Export reports as PDF or CSV files
Provides advanced big picture reporting on an account.
We're consistently adding more features as we get more feedback from clients, so please check back frequently to see what new points of integration have been added to date.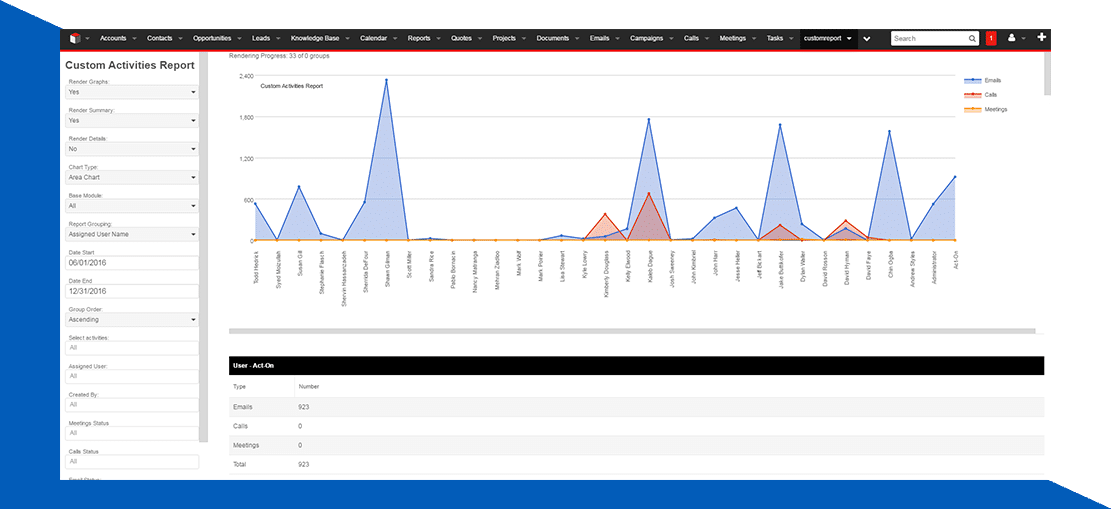 Requirements
The Consolidated Activity Report is compatible with all SugarCRM supported versions.
Data consistency is the responsibility of the end user.
Pricing
USD 599,- p.a.