September 12, 2022
|
3 min read
|
5 Useful Non-Marketing Tools in Sugar Market

If you are using Sugar Sell, then Sugar Market is the Marketing Automation platform to complement an already powerful sales automation solution for the SugarCRM tech stack.
Sugar Market is the all-you-need marketing automation solution built to work for you. With a platform toolset built with CRM in mind, users benefit from highly intuitive campaign builders, advanced automation, and superior reporting.
With inbound and outbound email marketing tools, social media management capabilities, and even Google Ads management tools, Sugar Market can be a powerful cloud solution for your marketing team.
However, Sugar Market isn't only for marketing teams. Sugar Market is pre-integrated into Sugar Sell. That means you can track your prospect and customer behaviors across the entire customer lifecycle, leading to more timely handoffs to sales and the ability to discover repeat business opportunities to drive even greater revenue per customer.
The marketing team benefits of Sugar Market check off all the core boxes, but the sales team benefits may not be well known.
Here are five useful non-marketing tools in Sugar Market that will benefit your sales team:
Social Media Automation
Oktopost integrates into Sugar Market, so sales reps can schedule posts, manage accounts and monitor engagement from prospects and accounts across social media platforms. You can even set up an Advocacy Board, which allows you to share content with employees and brand advocates to easily have them set up posts to their personal social media accounts.
Lead Scoring:
Measure engagement and prioritize Sales outreach with actionable lead intelligence.
Interactive Dashboards:
Source data from various marketing initiatives with visually appealing, shareable reports to create actionable sales outreach.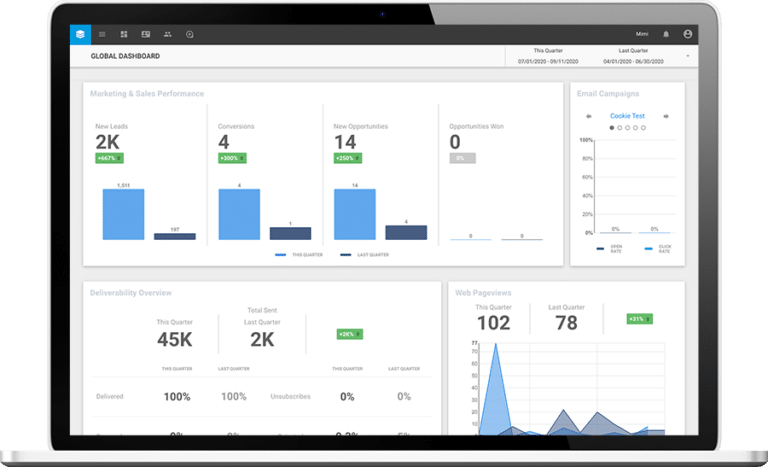 Buyer's Journey Tracking:
Uncover key insight into prospect and account engagement with your website and sales enablement assets.
Improve CX & Retention:
Reach out to prospects and customers to optimize scheduling at the best possible time.
Sugar Market is transforming how mid-sized marketing teams reach audiences and measure success throughout the buyer journey. Attract more visitors to your website and gain visibility into how they interact with digital assets. Capture leads by creating conversion-focused landing pages, emails, and forms with intuitive, drag-and-drop builders.
Reach out to us to learn more about non-marketing tools in Sugar Market or schedule a live demo.