January 22, 2021
|
2 min read
|
The Emotional Footprint of CRM

Customer Relationship Management (CRM) consists of applications designed to automate and manage the customer lifecycle. CRM software optimizes customer data management, lead tracking, communication logging, and marketing campaigns.
You probably knew all that. But did you know that software can also have an emotional footprint?
Yea, CRM software can help you optimize processes, organize information, and become entirely modern by using a cutting-edge platform.
Software isn't going to do all that by itself. The most significant CRM software aspect that contributes to success isn't the software; it's the vendor.
According to SoftwareReviews.com, The Emotional Footprint is a powerful indicator of overall user sentiment toward the relationship with the vendor, capturing data across five dimensions.
These include:
Strategy and Innovation

Service Experience

Conflict Resolution

Product Impact

Negotiation and Contract
In the recent SoftwareReviews.com emotional footprint report, SugarCRM, Pipedrive, Oracle CX Sales and Zoho CRM are the most popular with their users. (Source from Forbes). SoftwareReviews.com found that these four CRM systems have the highest combined Value Index and Net Emotional Footprint scores across all CRM vendors included in the study.
As rated by the companies and users who rely on them every day to drive revenue, the top four CRM vendors have an aggregate Net Emotional Footprint score of 86%, far above the average score of 77%. SugarCRM is considered the most trustworthy of all 14 vendors included in the SoftwareReview.com survey of 1,704 CRM users.
As quoted from the emotional footprint report:
"The Net Emotional Footprint measures high-level user sentiment towards particular product offerings. It aggregates emotional response ratings for various dimensions of the vendor-client relationship and product effectiveness, creating a powerful indicator of overall user feeling toward the vendor and product. While purchasing decisions shouldn't be based on emotion, it's valuable to know what kind of emotional response the vendor you're considering elicits from their users."
Here are the Top 10 Vendors on the emotional footprint summary report.
SugarCRM
Pipedrive
Oracle CX Sales
Zoho CRM
Dynamics 365 Sales
Sage CRM
Zendesk Sell
HubSpot Sales Hub
Freshworks CRM
Insightly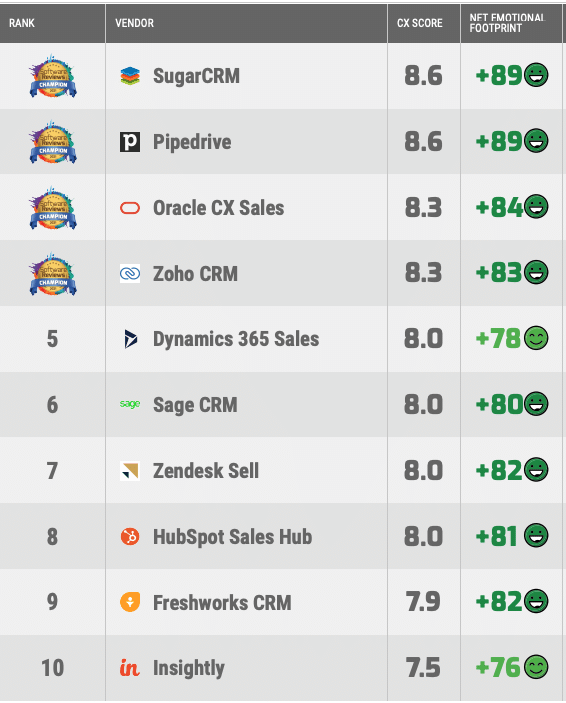 Faye is proud to be a leading partner with many of these software platforms, including SugarCRM, Zendesk Sell, and HubSpot. We can also help you evaluate all of the platforms listed above to see which offers your business the best solutions.
Set up a free consultation with us today!