July 13, 2022
|
4 min read
|
3 Sugar Enhancements That Will Take Your Instance to the Next Level

SugarCRM is a powerful tool that will help you sell, serve, and market with better outcomes. You're likely taking advantage of the basic functionalities of Sugar but since you're reading this blog right now, it's likely that you're looking to unlock even more features and find powerful add-ons that will take your Sugar instance to the next level.
Faye has built out over 25 custom applications, tools, and add-ons to address common use cases across a variety of industries. Out of those 25+ applications, there are a few that earn the title of most popular. These tools are: Utilization Monitor, Splash CRM Gamification, and Advanced Trackers.
These add-ons will help you combat low adoption and utilization rates, make Sugar fun for your users, and help you keep track of when fields change and who is changing them. All of Faye's add-ons are powerful tools that will take you to the next level. Let's take a deep dive into those three most popular tools and discover just how much value they can provide.
Utilization Monitor: Uncover & address Sugar adoption and utilization issues
It is no secret that adoption difficulties are expected after the implementation of a new CRM, when rolling out new processes and features on your current CRM, or when training new employees to use your CRM.
Utilization Monitor was created to tackle your adoption hurdles and help you maximize the value of your SugarCRM instance. This tool equips managers and supervisors with valuable optics and real-time dashboards that reveal what their SugarCRM users are doing within the Sugar platform
Some of the most common ways that sales managers and CRM admins use this tool are to:
View Sugar usage stats by user to identify users that need extra help with adoption
Understand which types of users have the highest/lowest usage rates
Identify which features are/aren't being used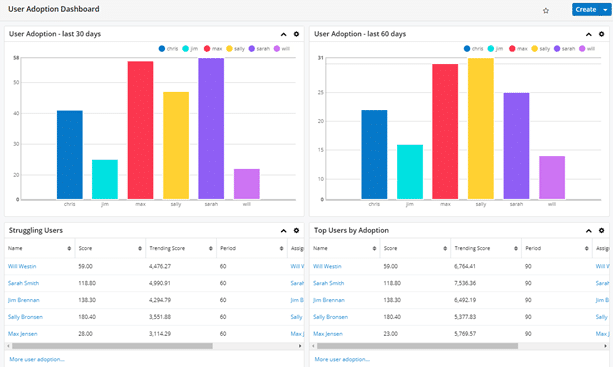 Utilization Monitor is a must-have Sugar add-on if you are looking to boost adoption and usage across your company.
Learn more about Utilization Monitor here!
Splash: Turn SugarCRM into a gamified, employee-motivation engine
In recent years, many companies realized that Gamification is an ideal tool for driving organizational change. When it comes to training, motivating, and incentivizing SugarCRM users, gamification should be a no-brainer.
Splash turns your SugarCRM platform into an employee-motivation engine, using game-like mechanics to tap into your workforce's hidden potential. By incorporating game-like activities into the SugarCRM user experience, you now have access to a variety of tools that help guide employee behavior and make it fun!

For example, if you want to push sales of a new product as the quarter draws to a close, you can create a sales competition, establish a prize, and post sales results to a real-time leaderboard to drive healthy competition among your sales reps.
Advanced Trackers: Gain clarity with a Sugar changelog tool
Having access to a changelog for your SugarCRM fields is critical, and while SugarCRM's Audit Log is a powerful tool, Faye responded to their clients' needs by building Advanced Trackers, an app that further improves Audit Log's useful features.
Advanced Trackers is a changelog app that helps you keep your fields up-to-date without having to manually search for and update them yourself. Plus, Advanced Trackers gives you a centralized overview of the fields of your choice with a variety of trackable metrics.
SugarCRM admins and sales managers alike can use this app to:
Quickly identify when a field was last updated, who it was updated by, what its previous value was and new value are, and how long its previous values were kept.
Keep track of opportunities that have stalled (when their "stage" field has not been updated in a certain amount of time) so sales managers can step in to help
Keep track of how and when your employees are utilizing Sugar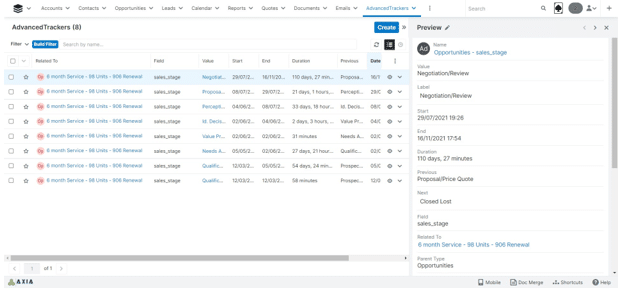 This enhancement will not only give you a better overview of your sales cycle and help you identify which team members are active within your Sugar, it can also help with compliance and security.
Contact our experts to learn more about Advanced Trackers here!
Ready to Take your Sugar Software to the Next Level?
Faye has been a Sugar partner for 12+ years. We have been entrusted with over 1,000 CRM projects and more SugarCRM implementations, integrations, and support projects than any other partner in the world.
Our certified experts know exactly what it takes to move your SugarCRM instance to the next level.
Reach out below to get started!